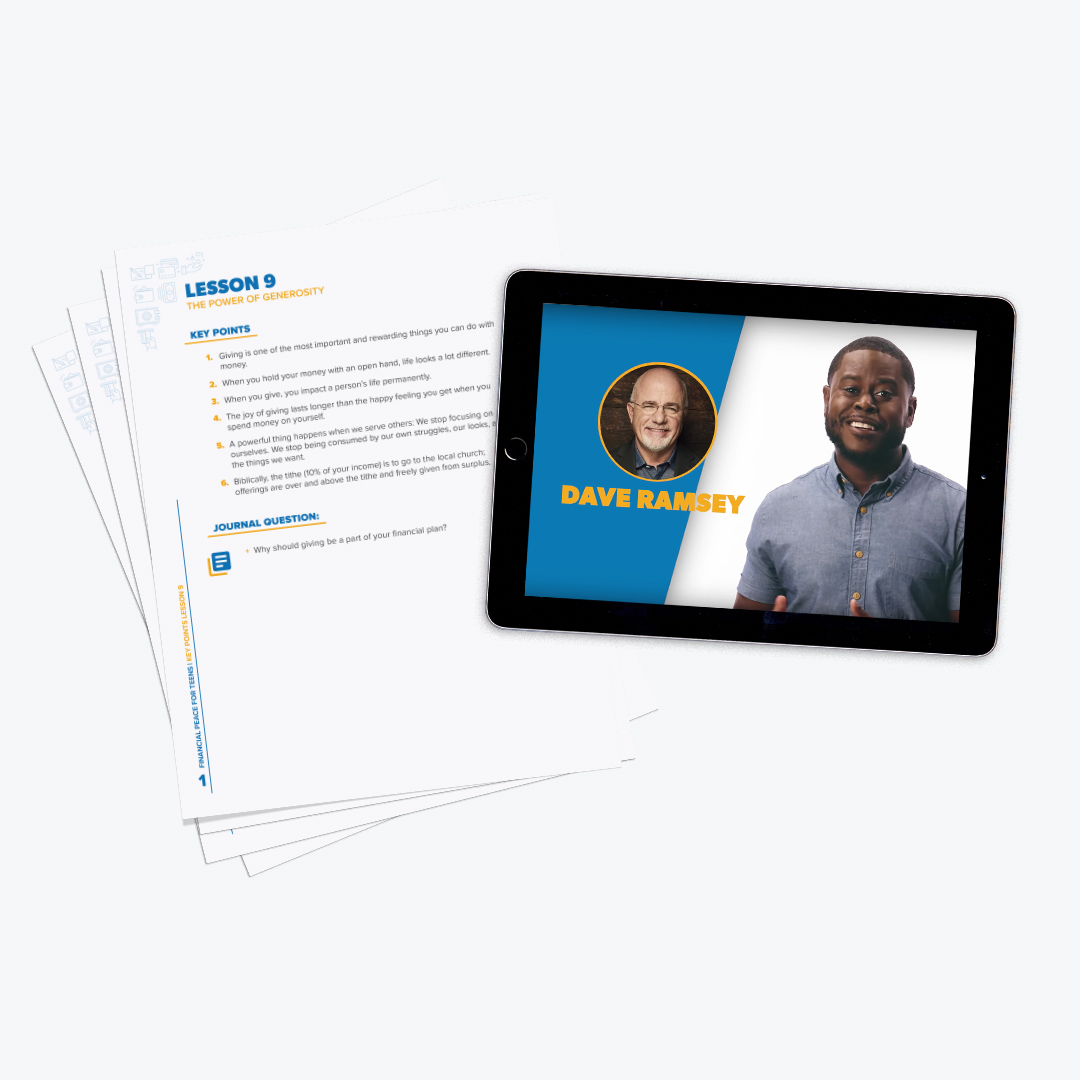 Financial Peace for Teens - Digital Student Account
Only accessible with a Digital Leader Account
Description
Please Note:
*Financial Peace for Teens - Digital Student Account access is only available for those joining a group with an established Digital Leader Account. This product was intended to be purchased together with the Financial Peace for Teens Digital Leader Account + 10 Student Accounts bundle.
About Financial Peace for Teens
Financial Peace for Teens is a nine-lesson money management class taught by America's leading financial experts: Dave Ramsey, Rachel Cruze, and Chris Hogan. The class is designed to help teens learn solid financial principles that will prepare them to handle their money wisely, save for the future, and avoid debt, and give generously.
Watch to learn more about Financial Peace for Teens
What's Included:
12-months of access to the Financial Peace for Teens digital student platform, which contains nine lesson videos. Select the desired number of student accounts from the picker beside the "Add to Cart" button.
What Teens Will Learn:
Lesson 1: The Basics of Money
This lesson will introduce you to the topic of personal finance and give you an overview of the history of credit.
Lesson 2: Don't Be Normal
In this lesson, you will learn that you can change your money behavior by understanding your money personality and the language of money.
Lesson 3: Save That Cash
Discover the Five Foundations that start with the importance of having money set aside for the emergencies that will happen in life.
Lesson 4: Watching Money Grow
Learn about the mathematical explosion of compound interest that can help you become a millionaire—when it has time to work.
Lesson 5: Take Control of Your Money
Personal finance is all about you taking control of your money and telling it where to go and what to do—instead of wondering where it went.
Lesson 6: Working Toward Zero
In this lesson, you will learn that a budget is the most powerful tool you have to manage your income and expenses while avoiding debt.
Lesson 7: The Truth About Debt
It's time to uncover the myths related to debt while discovering the truths that will keep you from becoming a slave to payments.
Lesson 8: There's a Better Way
Dave explains that the "normal" way to buy a car and a house will only keep you in debt but there is a better way to do both.
Lesson 9: The Power of Generosity
Dave and Rachel talk about the importance of generosity as well as the difference between being an owner and a manager of resources.
How Do I Get Started?
Continue the checkout process.
Look for an email from our sales support team with a confirmation of your purchase. The email will arrive within 1 business day of purchase.
Log-in to your account to access details associated with sharing access to the student platform.
Share the student account access information with the number of students you purchased accounts for.