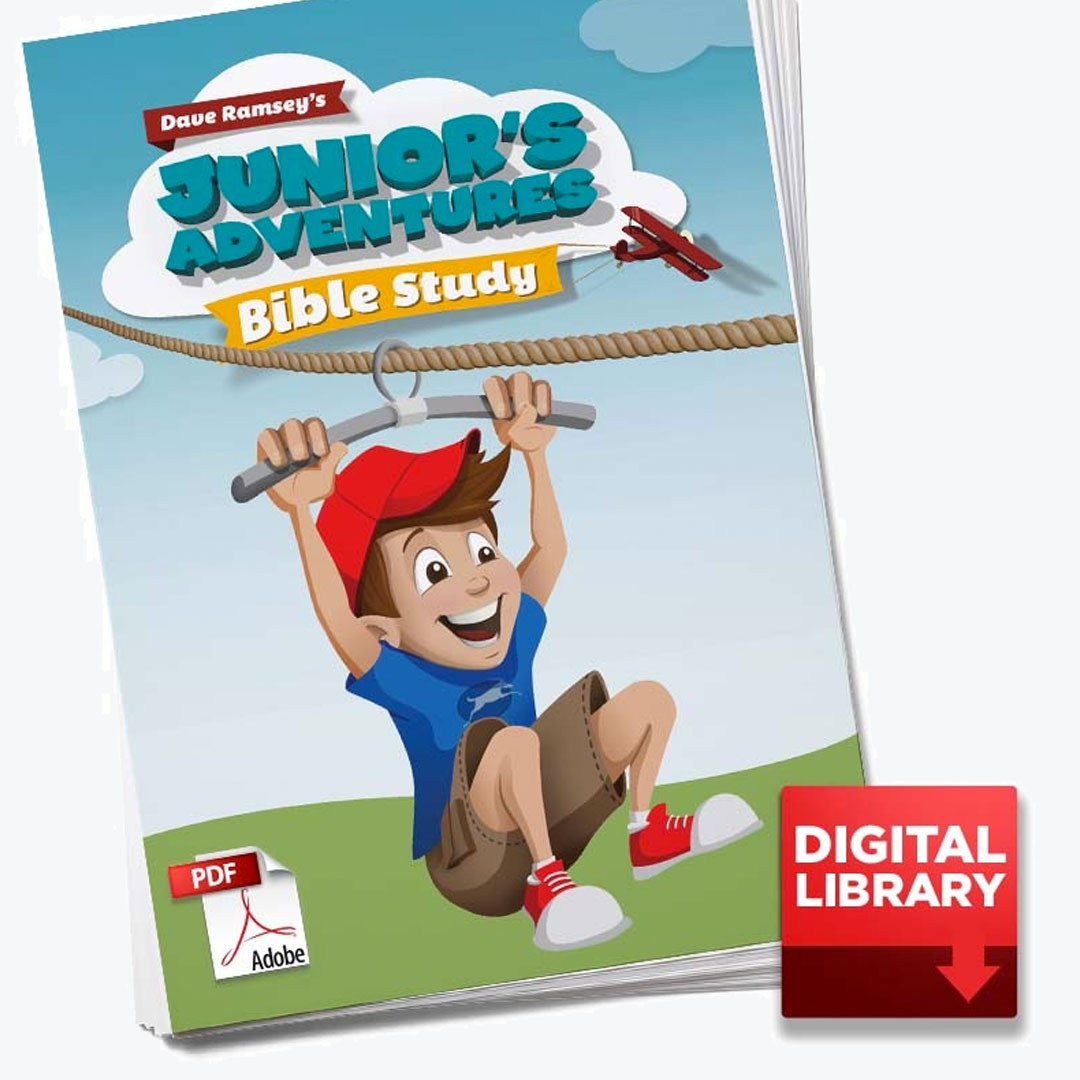 Junior's Adventures Bible Study
Teaching kids to handle money God's ways
Description
Note: Junior's Adventures Bible Study is a digital product. Everything you'll need will be delivered to your email after your purchase.
What is Junior's Adventures Bible Study?
Do you wish you had been taught what God said about money when you were younger? What if you had learned the value of a dollar before you were out on your own? What mistakes could you have avoided? How would that have shaped your values early on?
Money and generosity habits are established when we're young. Understanding what the Bible says about these issues is crucial for kids.
Junior's Adventures Bible Study is a six-lesson Bible study that teaches kids how to handle money God's ways. Kids think they're just having fun, but you know better! Your kids will learn that everything belongs to God. They'll learn the value of hard work and why serving others is so important. They'll also learn how to save and spend wisely and how to be content with what they have. These are foundational lessons your kids will love!
Lessons
Ownership
God owns it all, and we are called to take care of what He gave us.

Work
God likes it when we work, and He expects our best.

Give
We show our love to God and others by how we give.

Save
It's wise to save so you'll have what you need when you need it.

Spend
God wants you to have a plan for your money.

Contentment
We can be content in every situation because God will take care of us.
How do I teach the class?
Junior's Adventures Bible Study was created to either serve as a stand-alone class during kids' ministry time or be combined with your Financial Peace University class. This curriculum features six hour-long sessions that include an illustrated story, fun activities and discussion questions. In each story, Junior runs into problems and finds the answer he needs in the Bible. Your kids will learn how to practically apply those life lessons right along with Junior. The class is geared for children ages 5–12 with activities divided by grade levels K–3 and 4–5.
The perfect fit for FPU childcare
In addition to the six lessons, we've also included three weeks of related bonus activities so you can run this class alongside your existing Financial Peace University (FPU) and Generation Change classes. The whole family can learn God's ways of handling money over the course of nine weeks.
Product Usage Agreement
This file contains a complete copy of the Junior's Adventures® Bible study curriculum. It may not be reproduced, sold, or given away without written permission from The Lampo Group, Inc. By purchasing and/or using this file you agree to an annual, limited usage in accordance with the number of users purchased, which governs the use, copying, and distribution of the file content.