Financial Peace University
Financial Peace University
Every Financial Peace University membership includes:
Access to nine online video lessons
Access to local groups
Subscription to EveryDollar Plus, our premium budgeting tool ($99 value)
Member workbook for all nine lessons
New! Dave Ramsey's follow-up course, The Legacy Journey
See available groups in your area
Did you know...?
Even though there are no groups currently near your location, you'll have access to Financial Peace University for an entire year! Start working the plan today and join a group when one becomes available.
You learn the same principles in the Online experience of Financial Peace University as you do with a group.
After checkout, you can start watching the lessons and using the tools and resources right away.
Checkout
or you can continue searching in a nearby area to expand your results.
Groups are meeting near you!
You will be able to sign up for a group anytime once you purchase your membership.
Checkout
Product Details
What is Financial Peace University?
Financial Peace University is a nine-lesson, money-management class taught by America's most trusted financial guru, Dave Ramsey. Dave and his teaching team will walk you through the basics of budgeting, dumping debt, planning for the future, and much more. And now you can experience this life-changing class the way that's best for you: with other people in a local group, online at your own pace or both!
Got it. What's included?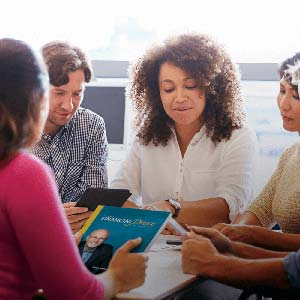 Join a Local Group for Your Greatest Life-Change
The biggest win for your money comes from meeting with other people on the same financial journey!
The best way to jump-start your financial journey and to see the most significant life-change is to join a local group and experience the class with other people. Classes typically meet for 90 minutes once a week for nine weeks and are led by a volunteer coordinator. The accountability and motivation you receive from discussing the lessons and meeting with people face-to-face is the key to changing your life!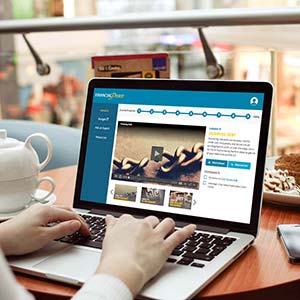 Online Access to Lessons and Tools
Keep your motivation high with anytime, anywhere access to online materials.
When you start Financial Peace University, you get immediate access to your online account which includes videos of Dave's teaching, additional reading and tools to help you win with money! Go through the video lessons at your own pace and join a local group at any time for extra encouragement and accountability.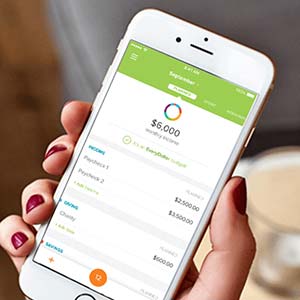 EveryDollar Plus ($99 Value)
Not everyone loves math. Make budgeting a breeze with our easy-to-use budgeting tool!
Save money and tackle your debt payments with EveryDollar Plus, our premium budgeting tool that's helping people manage their money. It's the perfect budgeting companion to put the principles you learn in Financial Peace University into practice. Connect your budget straight to your bank for easy expense tracking. In fact, EveryDollar Plus syncs across devices to keep you and your spouse on the same budget that's always up-to-date! Get access to your subscription through your online account with Financial Peace University.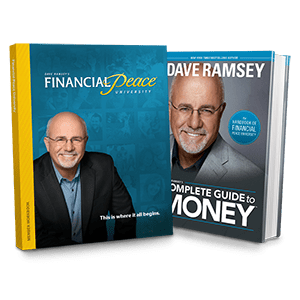 Class Materials (Free Shipping)
Receive class materials shipped straight to your door.
Materials include the member workbook, and Dave Ramsey's Complete Guide to Money. The workbook follows along with each video lesson, highlighting valuable information and providing space for you to record key takeaways. In the best-selling book Dave Ramsey's Complete Guide to Money, Dave provides you with all of the practical answers to the "How?" "What?" and "Why?" questions about money.
FAQs
Membership
What does my membership include?

After you purchase your membership, you'll be able to register for a local group and you'll get immediate access to your online account, which includes all nine video lessons, financial coaching assistance, digital tools, and a 12-month subscription to EveryDollar Plus. We will also mail you the member workbook that follows along with each video lesson. (No worries, shipping is free!) Your membership also includes The Legacy Journey, Dave's six-lesson course on building wealth, planning for your future, and setting future generations up for success.
Does my membership cover my spouse?

Yes! Only one membership is needed per household.
How long does a membership last?

Memberships last one year.
What if my membership expired?

No worries! When you log into your financialpeace.com account, you'll be prompted to renew your membership at a discounted price for six months.
Can I purchase Financial Peace University if I don't live in the United States?

Not yet, but we're working on a solution for you!
Can I get Financial Peace University in another language?

We only offer Financial Peace University in English at this time.
Groups
How do I find groups in my area?

Click the "See available groups in your area" link above to search by address, city, state or ZIP code.
How do I register for a group?

After checkout, you will be prompted to register for a group.
How often does a group meet? For how long?

Groups meet once a week for nine weeks to watch and discuss each video lesson together. Each week, groups typically meet for about 90 minutes.
What if I miss one week of my group?

No biggie! You can watch the lesson you missed from your online account. However, you must attend eight of the nine weeks to qualify for a graduation certificate.
What if there isn't a group in my area or one that fits my schedule?

Don't let that keep you from changing your life! Purchase your membership now and start working through the lessons and activities at your own pace. You can join an in-person group at any time if one becomes available for you.
Is there childcare available for groups?

Some groups offer childcare, and others do not. After you purchase your membership, you'll be able to view the details of each group before registering for that group.
What's a Financial Peace University class like?
This highlight reel will give you a picture of what to expect from Financial Peace University.
Reviews
Very satisfied customer!
Marsha from Pittsburgh, PA
October 2, 2018
The class was very informative, relative and incredibly helpful. Our instructor, Dan, brought experience, knowledge and wisdom to the class. He had great ideas and embodied everything we hear Dave say in his radio programs. I appreciated being able to hear the situation that other folks are in and how they are handling it. I think we all were able to help each other. I think we may even keep in touch with some of them. We thank you from the bottom of our hearts for putting this program out there!
Teaching an old dog a new trick
Frances from Spokane, WA
September 19, 2018
Loved the class. Hubby didn't want to come, but decided to come after I turn into a "screaming emotional woman". I had always been the budget nerd, but after lesson 3, he became the budget nerd! Before the class, we where about to build our retirement home costing over $600,000. Now he agrees with me and we are building a retirement Log cabin costing $150,000 and paying cash for material and any labor we can not do. Now we are on track to actually retire and just work part time.
Life Changing!
Becca from Providence, RI
August 25, 2018
I took this class with sincere interest in learning more about finances and hoping to walk away being better with money. As a single, 25 year old finishing up college, I want to build a good foundation for my life as my adulthood is just at the start! I anticipated gaining knowledge and wisdom from this class, but I didn't know I would become so inspired and motivated from it the way I was and still am! This was such a great framework of information and the community aspect of the class was awesome too. I am beyond grateful for this class and Dave Ramsey. It came at such a good time and I've made so much progress in things I didn't even know needed progress! This will impact the rest of my life. Now that's something good.
Changed my life
Casey from Camp Pendleton, CA
August 1, 2018
I love this program. Everything about it. Wish I knew about this 16 years ago when I joined the Marines. Everything I thought I knew about money, legacy, and budgeting were wrong. Glad I decided to finally see what everyone was saying about "Dave Ramsey". The Every dollar app is on point too. Overall this is a great program. I would like to see more information geared towards military as we live a bit differently than normal civilian life such as the TSP, PCS/PCA, deployments, SGLI, and SDP. The military tries to teach us coming up but it's a measles check mark in the box for them. After learning the Baby step program, I try to teach my guys as much as I can learn from FPU and his daily videos.
Worth the money
Michelle from Skoikie, IL
July 16, 2018
I wish my husband and I did this within the first year of our marriage or even before we got married. It would have prevented some bad financial decisions that we made.