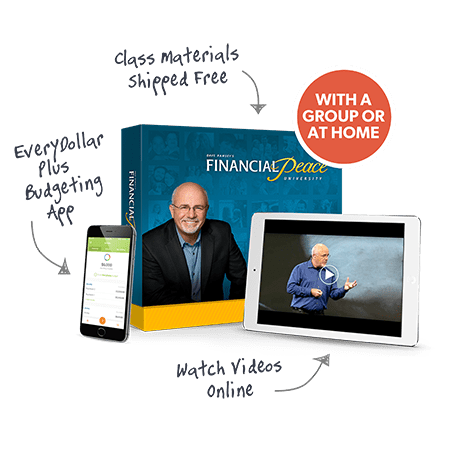 Dave Ramsey's
Financial Peace University
Take the class with a local group near you or online at home!
Checkout
Your Financial Peace University membership includes:
Immediate access to Financial Peace University online video lessons, tools and resources
Free 12-month subscription to our premium budgeting tool, EveryDollar Plus ($99 value)
Financial Peace University member workbook
Livestream Video Access to Money & Marriage event on April 18
See available groups in your area >
Did you know...?
Even though there are no groups currently near your location, you'll have access to Financial Peace University for an entire year! Start working the plan today and join a group when one becomes available.
You learn the same principles in the Online experience of Financial Peace University as you do with a group.
After checkout, you can start watching the lessons and using the tools and resources right away.
Checkout
or you can continue searching in a nearby area to expand your results.
Groups are meeting near you!
You will be able to sign up for a group anytime once you purchase your membership.
Checkout
Product Details
What is Financial Peace University?
Financial Peace University is a nine-lesson, money-management class taught by America's most trusted financial guru, Dave Ramsey. Dave and his teaching team will walk you through the basics of budgeting, dumping debt, planning for the future, and much more. And now you can experience this life-changing class the way that's best for you: with other people in a local group, online at your own pace or both!
Got it. What's included?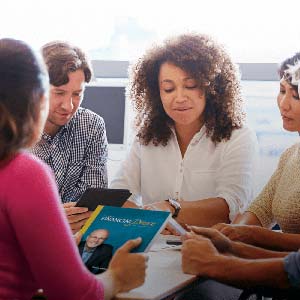 Join a Local Group for Your Greatest Life-Change
The biggest win for your money comes from meeting with other people on the same financial journey!
The best way to jump-start your financial journey and to see the most significant life-change is to join a local group and experience the class with other people. Classes typically meet for 90 minutes once a week for nine weeks and are led by a volunteer coordinator. The accountability and motivation you receive from discussing the lessons and meeting with people face-to-face is the key to changing your life!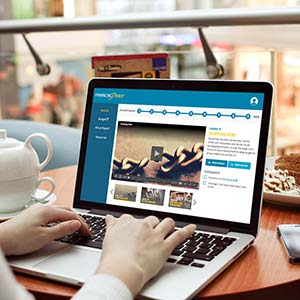 Online Access to Lessons and Tools
Keep your motivation high with anytime, anywhere access to online materials.
When you start Financial Peace University, you get immediate access to your online account which includes videos of Dave's teaching, additional reading and tools to help you win with money! Go through the video lessons at your own pace and join a local group at any time for extra encouragement and accountability.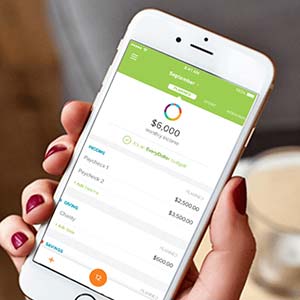 EveryDollar Plus ($99 Value)
Not everyone loves math. Make budgeting a breeze with our easy-to-use budgeting tool!
Save money and tackle your debt payments with EveryDollar Plus, our premium budgeting tool that's helping people manage their money. It's the perfect budgeting companion to put the principles you learn in Financial Peace University into practice. Connect your budget straight to your bank for easy expense tracking. In fact, EveryDollar Plus syncs across devices to keep you and your spouse on the same budget that's always up-to-date! Get access to your subscription through your online account with Financial Peace University.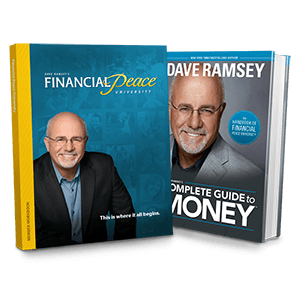 Class Materials (Free Shipping)
Receive class materials shipped straight to your door.
Materials include the member workbook, and Dave Ramsey's Complete Guide to Money. The workbook follows along with each video lesson, highlighting valuable information and providing space for you to record key takeaways. In the best-selling book Dave Ramsey's Complete Guide to Money, Dave provides you with all of the practical answers to the "How?" "What?" and "Why?" questions about money.
What's a Financial Peace University class like?
This highlight reel will give you a picture of what to expect from Financial Peace University.
Ready to get started?
Checkout
or
buy as a gift